Chemical Barrels Blow Molding Machine Description:
Chemical barrels blow molding machine is a device used for producing chemical barrels and plastic ton barrels. Using blow molding technology, plastic particles are heated and melted before being injected into the mold, and the plastic is blown into the desired shape through high-pressure gas. The chemical barrel blow molding machine has the characteristics of production, low cost, and stable quality.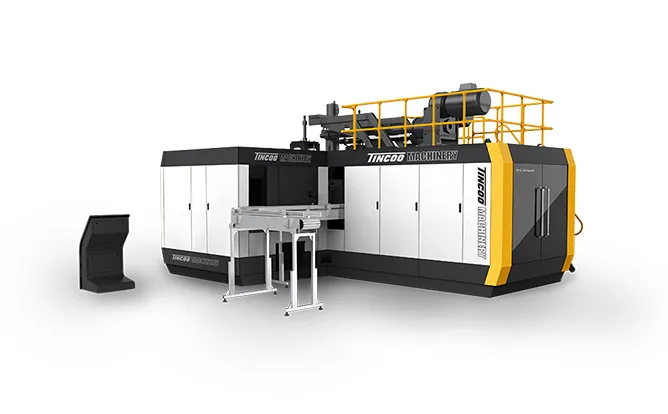 Blow molding machines control system adopts closed loop control imported from Europe and hydraulic system is pressure-flow double proportional control equipped with variable plunger pump to ensure fast and smooth operation of the machine and energy consumption of the hydraulic system can be reduced by 30% or above, saving considerable electricity.

Advantages of Chemical Barrels Blow Molding Machines:
● All tubes and lines are located in good order.
● Mold-moving stand is in box shape. It can make movement more stable and avoid distortion.
● Tie bars are strengthened to make movement more stable
● Mold-closing and mold-moving cylinder has been equipped with joint bearing. It can help protect mold-closing and mold-moving cylinder.
● New blow construction. It can blow vertically and even blow from certain angle.
● Blow construction has connected to exhausting air pipe. It can make product cool down more quickly.
● Blow moulding machine is with auto deflashing.
● Blow molding equipment can be connected to conveyor to carry the slitter edge to crusher to be reused.