Stone Paper Line Introduction:
Environmental stone paper line can manufacture the stone paper by large reserves, wide distribution of limestone mineral resources as the main raw materials (calcium carbonate content is 70-80%), based on polymer materials (content for 20-30%).
Stone paper products application field is very wide, can be applied to a one-time life consumption goods, such as garbage bags, shopping bags, food bag and so on.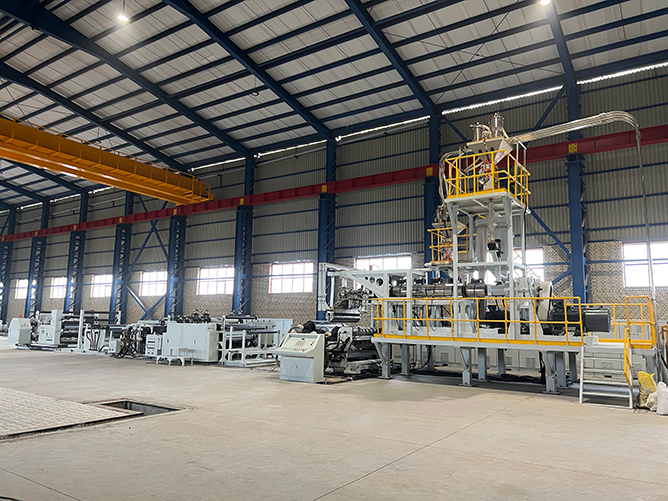 The culture are available, such as printing paper, writing paper, advertising, packaging paper;Can also be used in building decoration, such as decorative wallpaper, etc. Stone paper production line products cost of 20% – 30%.
Stone Paper Production Line Process:

Stone Paper Equipment Product Attributes:
09
Advantages of Stone Paper Production Line:
1. The main raw materials of environmental paper are calcite and polyethylene, contain no plasticizers or other toxic substances;
2. The paper is waterproof, moisture-proof, tearing-resistant, anti-folding, moth-proof and with excellent properties;
3. Compared with traditional wood pulp paper, environmental paper does not need to cut down trees, no waste water, gas and solid waste discharge, the production process is environmental friendly;
4. The paper can be naturally cracked under conditions of sun exposure, wind blowing and rain. It can replace non-degradable plastics and reduce white pollution;
5. The paper through the EU (food grade), REACH, ROHS and other standard testing, is the international standard recognized environmental protection materials.