Chemical Stacking Barrels Blow Molding Machine Description:
This chemical stacking barrels blow molding machine is suitable for blow moulding of plastic barrels such as chemical barrels and stacking barrels.
Chemical stacking barrels blow molding equipment is mainly applicable to the production of various packing barrels with PE and capacity between 10~160L,toolbox,motorcar parts such as gasoline tank,wind pipe and other large and medium-sized plastic hollow products.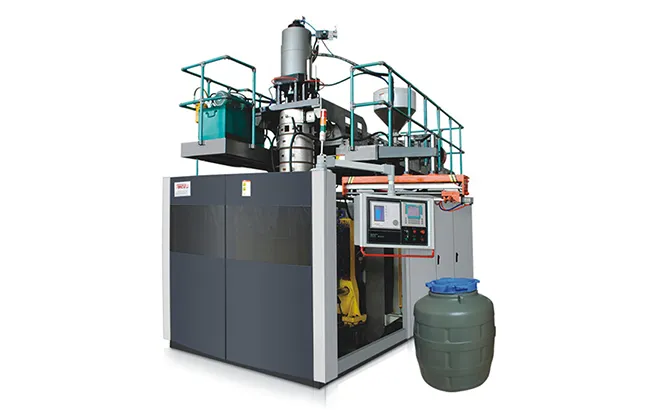 The blow moulding machine uses platen moving cylinders with mechanical shuttle valve to reduce impact force at end position. High stationarity and reliability, accurate operation, long longevity and quick response.
Chemical Stacking Barrels Blow Molding Equipment Advantages:
1. This series adopts new patent of two pull-rod type closing-mold device; double-folding accumulator head;extrusion device and product taking-out device, and entirely achieves full automatic production.
2. The electrical control system adopts Complete computer control to automatically conduct to automically conduct technical parameter optimization and trouble diagnosis with high control precision and good reliability.
3. This series,completely designed and manufactured according to German standards of same model is the model with ration of performance to price at present.