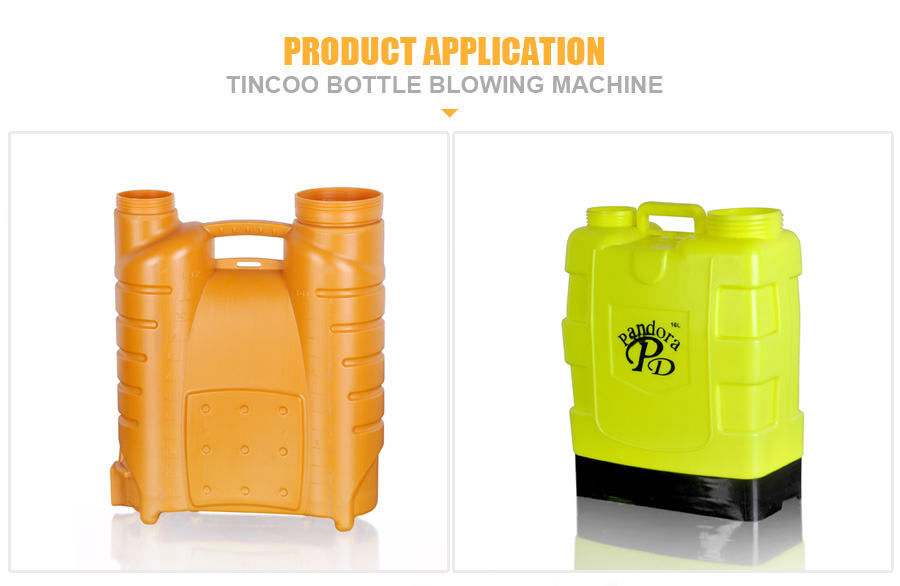 DHB-M200 Blow Molding Machine General Introduction
Double layers with accumulator head blow molding machine is newly-developed product in our company.
This blow moulding machine uses twin-screw with co-accumulator die head, by increasing recycled layer & proportion as well as reducing the use of raw material, in order to reduce cost.
Plasticizations cancel V-belt drive, but adopt parallel shaft- helical gear reducer motor, and improve driving efficiency to reduce energy consumption, small vibration and low noise.
Hydraulic clamping uses oil-filled cylinder, small oil tank is for clamping pressure increase, and large oil tank is for mold opening and closing, which lessen oil pump displacement and
energy consumption.
DHB-M200 Blow Molding Machine Advantages
1. Machine platen can be moved down & up.
2. Machine platen has been strengthened.
3. All tubes and lines are located in good order.
4. Mold-moving stand is in box shape. It can make movement more stable and avoid distortion.
5. Tie bars are strengthened to make movement more stable
6. Mold-closing and mold-moving cylinder has been equipped with joint bearing. It can help protect mold-closing and mold-moving cylinder.
7. New blow construction. It can blow vertically and even blow from certain angle.
8. Blow construction has connected to exhausting air pipe. It can make product cool down more quickly.
9. Machine is with auto deflashing.
10. Machine can be connected to conveyor to carry the slitter edge to crusher to be reused.
11. Machine can be connected to conveyor to carry out bottle and connects the filling machine directly.
12. Machine can be equipped with robot arm to take out the bottle.
13. Machine can be equipped with circle-type cutter to trimmer the bottle with foil-sealing type.
14. Mold platen has been professionally designed in construction and shape to keep stable.
15. New and safe machine door.
16. Machine is equipped with reduction valve in the mold-moving parts. It can make mold move more quickly and more stably.
17. Machine is equipped with manual adjuster to adjust the position of mold and blow pin. It makes the adjustment more conveniently.
18. Screw stand is of high rigidity.
19. Screw can be adjusted forward and backward, leftward and rightward.
Advanced processing equipment:
1. Introducing advanced technology from Germany, Italy, Japan etc.
2. Involving advanced design and production of super large-scale blow-molding machine and engineering management capability.
3. Holding over 40 items Patent Technologies.